Sea Cavalry (SD-40), developed by Han's Eagle, is industrial gas-electric hybrid VTOL fixed-wing UAV specialized for maritime business. It has the ability of long-distance and high-speed cruise. With the ability of high-precision VTOL on moving board, SD-40 and patrol ship can form a part of the land-sea-air three-dimensional integrated dynamic regulatory net.
Characteristic
►The key system redundancy design makes safety performance high;
►The design of four arms and eight rotors leads to strong ability of wind-resistance;
►Three-fuselage layout makes landing on the sea come true;
►The enclosed design leads to ability of water-proof and salt spray proofing;
►Huge payload bay meets the requirement of sea rescue;
►Huge battery-cabin supports hovering-monitor mission;
►Alternator power the aircraft in a long-time mission;
►Over-the-horizon patrol causes wide range of investigation.
Specifications
►Wingspan:3.7m
►Length:2.0m
►MTOW:40kg
► Cruising Speed:90~144km/h
► Max Airspeed:180km/h
►VTOL Sea-situation:Level 4
►Operation Altitude:1000~3000m
►Ceiling:5000m
►Max Take-off Altitude:2000m
►Max Payload:6kg
►Endurance:6h
Payload
Double-light EO, Communication relay equipment, Airborne digital SLR cameras,
Mini-SAR(synthetic aperture radar), Mini laser-radar, etc.
Maritime Business
●Maritime Patrol: law enforcement and investigating-searching for evidence by maritime patrols, ship oil spill and sewage surveillance, the convoy of merchant ships by air monitoring, air AIS monitoring, etc.
●Navigation Supporting: VHF aerial relay, regular inspection of navigation aids, channel survey, etc.
● Emergency Rescue: sea search and location, delivery of relief supplies ,act as rescue flotation device
●Other Applications: express of island's mail, deliver supplies to lighthouse regularly, the monitoring of atmospheric environment atsea, etc.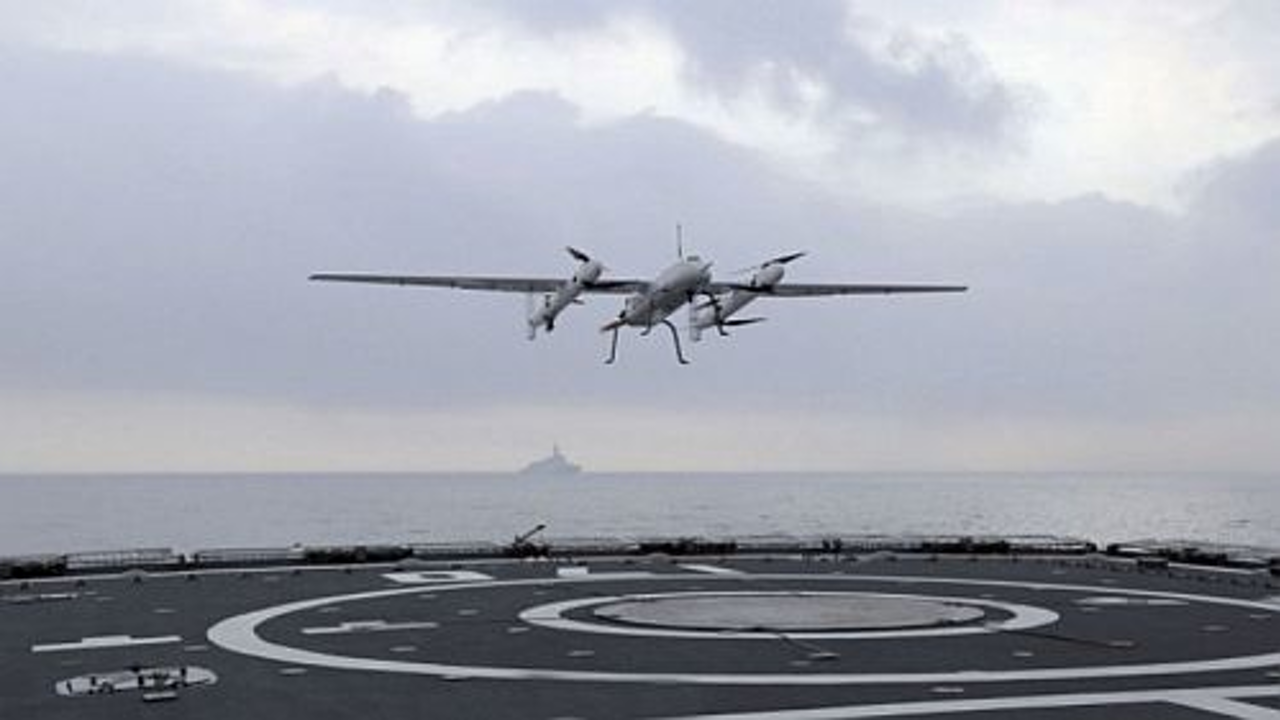 Chinese navy deploys new VTOL UAV
The long-range unmanned aircraft is designed to perform over-the-horizon patrol, inspections, as well as intelligence, surveillance, and reconnaissance (ISR) operations in support of the naval forces.
Sea Cavalry SD-40 variants
Sea Cavalry SD-40 is configurable to different versions based on the requirement. It is available in three variants, namely starter version, standard version, and deluxe edition.
The starter version, which is the basic model of the unmanned aircraft, integrates a power, flight control, electrical, and digital transmission system.
The standard version consists of a generator module, monitoring unit, image transmission system, and a ground station in addition to all the systems available in the starter version.
The deluxe edition features all the systems available in the standard version along with an additional tracking antenna system.
Sea Cavalry SD-40 design and features
Sea Cavalry SD-40 VTOL aircraft offers long-range endurance and high-speed capabilities. It adheres to water and salt-proofing standards and ensures strong resistance to wind.
The aircraft features a triple fuselage structure with two pod-like structures integrating the wings on both sides of the main fuselage. The rear sections of the pods are connected by a modified twin tail boom.
Vertical lift for the unmanned aircraft is ensured by eight twin-blade propellers fitted to the forward and rear sections of the fuselage support structures. Positioned above and below the support structures at four locations, the propellers act as vertical thrusters to enable the UAV to perform take-off, hover, and control landings.
Sea Cavalry SD-40 features a pusher propeller attached to the rear of the main fuselage. The pusher propeller is driven by the main engine of the aircraft, while eight small propellers are driven by small electric motors.
"The unmanned aircraft can fly at cruise speeds ranging between 90km/h and 144km/h and is capable of reaching a maximum speed of 180km/h."
The main fuselage features four struts/brackets, which act as landing gear. The UAV can take-off and land from the deck of warships, aircraft carriers, and destroyers.
Sea Cavalry SD-40 has a length of 2m, a wingspan of 3.7m, and maximum take-off weight (MTOW) of 40kg.
Sea Cavalry SD-40 payload details
The aircraft carries multiple payloads such as a double light pod, airborne digital camera, microlaser radar, and micro synthetic aperture radar to perform the various activities. Sea Cavalry SD-40 contains a large load compartment to accommodate payloads up to 6kg to perform sea rescue missions.
Multiple payload systems on the aircraft enable it to conduct maritime law enforcement, maritime patrol, evidence collection, aviation monitoring, very high-frequency (VHF) air relay, maritime search and positioning, channel measurement, and navigation.
Engine and performance of Sea Cavalry SD-40
Sea Cavalry SD-40 is powered by a hybrid fuel-electric power-plant. Its power requirements are fulfilled by airborne generators and a battery housed in a large compartment. The battery ensures a maximum endurance of six hours.
The unmanned aircraft can fly at cruise speeds ranging between 90km/h and 144km/h and is capable of reaching a maximum speed of 180km/h. The maximum take-off altitude of the UAS is 2000m, while its cruising altitude is between 1,000m and 3,000m. The maximum ceiling height of the aircraft is 5,000m.