The "Cloud Shadow"UAV, a high-altitude high-speed long-endurance (HALE) Reconnaissance and Strike multifunction unmanned aerial vehicle (UAV) developed by AVIC Chengdu Aircraft Industrial (Group) Co, .
The "Cloud Shadow"UAVA is offered in two variants, attack, and intelligence, surveillance and reconnaissance (ISR). The combat version comes with a number of weaponry options to defend ground-based enemy targets, whereas the ISR variant is provided with payloads to assist armed forces in missions such as border reconnaissance, battle damage assessment, observation, and monitoring.
Cloud Shadow UAV design and features
Each Cloud Shadow unmanned aircraft system comprises three unmanned aerial vehicles, one ground control station, and payloads.
The UAV's wings, fuselage and tail sections are built using composite materials. Its length and heights are 9m and 3.66m respectively and it has a take-off weight of 3,000kg and a payload capacity of 400kg.
Two large fixed wings, spanning 17ft, are attached to the middle portion of the fuselage. The tail section comprises two vertical stabilisers arranged in V-shape. The tailfins are canted outward to improve aerodynamic efficiency at high altitudes.
Take-off and landing of the aircraft is assisted by a tricycle type landing gear, consisting of one single-wheeled steerable nose leg and two single-wheeled main gears.
The payloads and sensors are stored in the UAV's bulbous nose assembly, while the propulsion system is placed at the rear.
Payloads carried by the Cloud Shadow unmanned aircraft
The unmanned aircraft is equipped with an electro-optical / infrared (EO / IR) payload pod under the fuselage for aerial surveillance, intelligence gathering, observation, target detection, monitoring, and reconnaissance tasks.
The EO / IR turret incorporates high-resolution imaging sensors to capture high-definition imagery and video in real-time. Additionally, a single camera is mounted in the nose to assist operators in observation and surveillance activities.
Detection and tracking of moving objects is performed by the onboard synthetic aperture radar.
Cloud Shadow armament
The armed variant of the Cloud Shadow drone comes with six hardpoints, three under each wing and with a capacity to hold up to two weapons, to carry a range of Chinese air-to-surface missiles and glide bombs to engage surface targets.
The armament options include 50kg CS/BBM3 (YL-12) GPS guided bomb, Blue Arrow 21 air-to-surface missile, 100kg GB-4 precision-guided bomb, and light cruise missiles.
Ground control station for the Cloud Shadow
The Cloud Shadow HALE unmanned aerial vehicle can execute tasks either autonomously using the onboard autopilot or can be controlled remotely by its operators from the ground control station.
The video imagery, telemetry and ISR data is downlinked to the ground segment using a secure communication link. The data is stored and analysed by the UAV operators to verify air traffic, as well as conduct ISR duties.
In the manual mode of operation, the operator sends mission commands to the aircraft via the data link.
Engine and performance of Cloud Shadow UAV
Driven by a single WP11C turbojet engine, the Cloud Shadow unmanned aerial vehicle offers a top speed of 620km/h.
The UAV is designed to cruise at altitudes of 14,000m and has the ability to transmit data to a distance of 290km within the line of sight. With a 1,000kg fuel tank onboard, the aircraft can stay in air for up to six hours.
Variants / Models
Cloud Shadow CS-1 - Imagery reconnaissance model
Cloud Shadow CS-2 - Electronic reconnaissance model
Cloud Shadow CS-3 - Reconnaissance strike model
There are three types of "Cloud Shadow" UAVs, and the "Cloud Shadow 1", equipped with a high-altitude high-definition CCD camera and synthetic aperture radar (SAR), can capture more than 10,000 square kilometers of optical images per hour at an altitude of 13 kilometers.
The "Cloud Shadow 2", equipped with a full-band radar signal detector and a communication signal detector, can detect and locate all ground-based radar systems within 400 kilometers and all communication signals within 200 kilometers.
The "Cloud Shadow 3", equipped with an SAR as well as an advanced opto-electronic reconnaissance device, can work with multiple types of advanced assault weapons to launch high-altitude reconnaissance and attacks toward targets beyond 50 kilometers.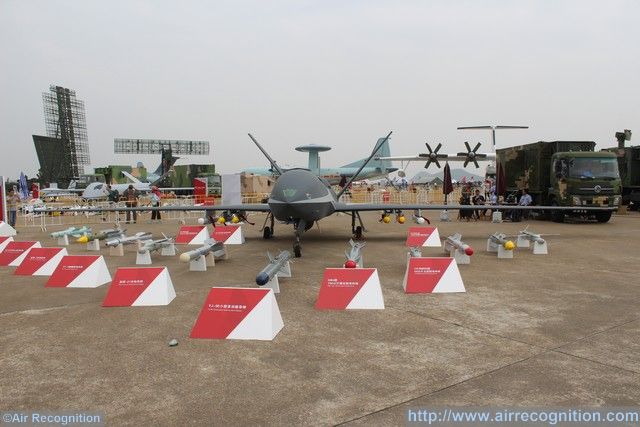 The Cloud Shadow UAV and the range of weapons it can carry
Specifications
General characteristics
Crew: None
Length: 9 m (29 ft 6 in)
Wingspan: 20 m (65 ft 7 in)
Height: 3.66 m (12 ft 0 in)
Empty weight: 2,300 kg (5,071 lb)
Max takeoff weight: 3,200 kg (7,055 lb)
Powerplant: 1 × WP-11C turbojet

Performance
Cruise speed: 620 km/h (390 mph, 330 kn)
Endurance: 6 hours
Service ceiling: 15,000 m (49,000 ft)

news
标志性意义!AEF发动机首次亮相航展,专用于国产双发云影无人机
123观察室 2019年09月19日 17:05
另外值得注意的是,在现场的展板上还特别标注了这款发动机专门用于国产双发云影无人机。该无人机是成飞公司研发的一款高空高速无人机,之前一直有传闻称云影无人

云中的隐逸者,飞行天空更优越,云影一直在线
环球新军事 2019年03月16日 10:30
而且云影无人机这一款作为我国的优秀无人机代表,已经被沙特在内的国家预定,云影无人机也是我国第一款外贸无人机。 正因为作为我国出口无人机的代表,云影的

China finds its UAV export sweet spot
Flightglobal-14 Jun 2019
The export of medium altitude, long endurance (MALE) UAVs has been a .... In the armed role, the Cloud Shadow can carry up to 400kg of

China Is Serious About Exporting UCAVs
Aviation International News-2 Feb 2018
Next to them was a full-scale model of yet another armed Chinese UAV: the jet-powered Yun Ying (Cloud Shadow). Inside the exhibition hall, .

Combat drones get star billing at Airshow as China moves ...
Global Times-4 Nov 2018
Unmanned aerial vehicles (UAVs) from different Chinese military industrial ... The "Cloud Shadow" UAV independently developed by Aviation ...

China's UAV ambitions coming of age
Flightglobal-7 Nov 2018
UAVs were again a major feature of Airshow China this year, with ... Another computer generated video showed its Cloud Shadow jet UAV

China is building drone planes for its aircraft carriers
Popular Science-20 Apr 2018
The Chinese military is bringing its drone and aircraft carrier ... The Cloud Shadow, a single-engined version of the Sky Wing UAV, has stealthy

China improves cueing for Cloud Shadow UAV
Shephard Media-22 Feb 2018
China's UAVs will reach farther, faster and hit the enemy harder, if current trends continue. Evidence of this was visible at the recent 2018 ...

100th Wing Loong armed reconnaissance drone to be ...
Global Times-26 Dec 2018
AVIC now offers products like the Wing Loong armed reconnaissance drone, the Cloud Shadow high-altitude drone, the AV500 unmanned ...
​AVIC's Wing Loong ID UAV takes flight

New Chinese Armed UAV Project Unveiled
Aviation International News-21 Feb 2018
At the recent Singapore Airshow, Chinese firm Star UAV Systems ... than other combat UAVs such as the AVIC Cloud Shadow that was shown

China to expand drone offerings with Star Shadow UCAV
Quwa-8 Feb 2018
Star UAV aims to have the Star Shadow fly in 2019. ... Like the Star Shadow, the Cloud Shadow has a payload of 400 kg, but with a cruising .

China Reveals a Supersonic UCAV
Aviation International News-12 Jun 2018
It has already developed a range of jet-powered unmanned systems, such as the Guizhou Soar Eagle and Chengdu Cloud Shadow

DUBAI: China's Cloud Shadow emerges seeking sales
Flightglobal-12 Nov 2017
Chinese manufacturer AVIC Chengdu Aircraft Corporation is showing off its Cloud Shadow strike/reconnaissance UAV at the show, marking its

Chinese drones may soon swarm the market — and that could ...
Business Insider-16 Nov 2017
China showed off some of its latest drone models and projects at this ... Among those was the Cloud Shadow, a semi-stealth drone with six

'Cloud Shadow' high-altitude drone debuts at Dubai Air Show
Global Times-13 Nov 2017
The "Cloud Shadow", a high-altitude high-speed multifunction unmanned aerial vehicle (UAV) developed by AVIC Chengdu Aircraft Industrial ...
Dubai Airshow 2017: China displays Cloud Shadow UAV

China's New Fleet Of Drones: Airshow Displays The Future Of ...
Popular Science-4 Nov 2016
China's military drone industry, already one of the world's largest, is on full ... One of the most prominent on display is the Cloud Shadow.

Zhuhai 2016: China reveals Cloud Shadow UAV for export
Shephard Media-1 Nov 2016
The Aviation Industry Corporation of China (AVIC) unveiled the first high-altitude, high-speed fixed-wing UAV available for export by China at ...

AVIC showcases Cloud Shadow jet-powered UAV for export
Quwa-1 Nov 2016
Marketed as a high-altitude and long-endurance (HALE) UAV, the Cloud Shadow can be used for strike as well as intelligence, surveillance, ..

AIRSHOW CHINA: China UAVs crank up the firepower
Flightglobal-31 Oct 2016
Another large AVIC UAS in the status park is called Cloud Shadow. Powered by a single turbojet, this aircraft resembles the General Atomics

Video
Cloud Shadow UAV CHINA'S NEW FLEET OF DRONES
Cloud Shadow UAV