Sounding rockets are rockets used for detection and scientific experiments in near-Earth space. Sounding rockets can be used to detect the structural components and parameters of each layer of the atmosphere in the height direction, and to study various solar-terrestrial physical phenomena such as the ionosphere, geomagnetic field cosmic rays, solar ultraviolet and X-rays, and meteorite dust. Sounding rockets fly higher than sounding balloons and fly lower than artificial earth satellites operating in low orbits. They are effective detection tools at altitudes of 30 to 200 kilometers.

Sounding rockets are rockets used for detection and scientific experiments in near-Earth space. Sounding rockets can be used to detect the structural components and parameters of each layer of the atmosphere in the height direction to study various solar-terrestrial physical phenomena such as the ionosphere, geomagnetic field, cosmic rays, solar ultraviolet and X-rays, meteorite dust, etc. Sounding rockets fly higher than sounding balloons and fly lower than artificial earth satellites operating in low orbits. They are effective detection tools at altitudes of 30 to 200 kilometers. The data obtained by sounding rockets can be used for weather forecasting, earth and astrophysical research, and provide necessary environmental parameters for the development of ballistic missiles, launch vehicles, artificial satellites, manned spacecraft and other aircraft. Sounding rockets can also be used for experimental research on certain special issues, such as using the weightless state provided by sounding rockets to study the changes and adaptability of biological organisms, and using sounding rockets to conduct verification tests of new technologies and instruments. Sounding rockets are generally uncontrolled rockets, which have the advantages of simple structure, low cost, and convenient launch. It is more suitable for temporary observation of special natural phenomena that occur in a short period of time (such as auroras, solar eclipses, solar outbursts, etc.) and continuous observation of certain natural phenomena that change with time and location (such as weather). There are some special technical requirements for launching uncontrolled rockets, mainly: ensuring flight stability, reaching a predetermined detection height and reducing the spread of the ballistic apex and impact point. The world's first rocket specifically used for high-altitude atmospheric detection was the "Corporal" rocket successfully developed by the United States in the autumn of 1945. It can deliver a payload of 11 kilograms to an altitude of 70 kilometers. After that, the United States and the Soviet Union launched a number of sounding rockets using captured V-2 rockets. The International Geophysical Year activities in the 1950s greatly promoted the development of sounding rockets, and many countries began the development of sounding rockets. By the 1980s, more than 20 countries in the world had developed or used sounding rockets. The annual launch volume of sounding rockets reaches thousands.

The sounding rocket system consists of payload, rocket, launcher and ground station. Most of the payload is contained in the Arrow's instrument bay. The diameter of the instrument cabin can sometimes be larger than the diameter of the rocket body. The information collected by the payload is sent to the ground station for processing through the telemetry device, or the payload is ejected from the rocket during its descent and is safely dropped to the ground using aerodynamic deceleration devices such as parachutes for recovery. The weight and size of the payload depends on the detection requirements, generally ranging from a few kilograms to hundreds of kilograms, and up to several tons. The rocket includes the rocket body structure, power unit, stabilizing tail, etc. Most sounding rockets are single-stage or two-stage rockets, and some are 3-stage or 4-stage rockets. The power unit usually uses a solid rocket motor, which can simplify and shorten the launch operation time. The requirements for rocket attitude and flight trajectory of sounding rockets are not as strict as those of missiles and launch vehicles. Generally, there is no control system, and flight stability is ensured only by stabilizing the tail or the rotation of the rocket around the longitudinal axis.
Set up control systems only when precise positioning and orientation are required.
The launch device usually uses a guide rail and a tower launcher to enable the rocket to obtain a sufficient exit speed. The flight trajectory of an uncontrolled rocket is greatly affected by wind. In order to ensure that it reaches the predetermined height and reduce the trajectory dispersion, the sounding rocket launch must use wind compensation technology to adjust and determine the launch angle based on the high-altitude wind data at the launch site. Most sounding rockets are launched from the ground in a nearly vertical state, and some are also launched from mobile launch vehicles. If necessary, they can also be launched from ships or balloons in the air. Ground stations mainly include ground receiving equipment for receiving measurement information, positioning and speed measurement equipment for tracking rockets (such as radar), and electronic computers. There are two radar tracking methods: reflective and transponder. The transponder has a larger tracking distance than the reflective. The telemetry data received by the ground receiving equipment is directly input into the electronic computer for processing, and the detection results are given in real time.

The company provides sounding rocket design
1 Low Altitude Sounding Rocket TK-1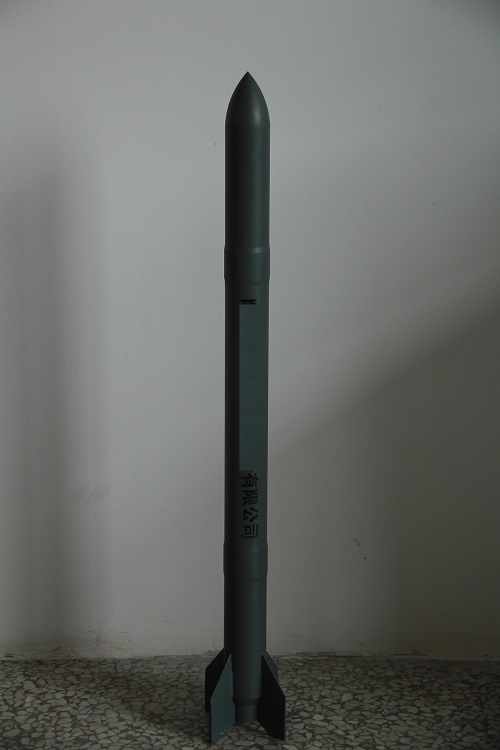 Basic information
The K-1 sounding rocket system consists of a low-altitude sounding rocket, a launcher, a launch control, a receiver, an antenna and a host computer.
Product parameters
Detection height: 10hPa~1100hPa
Temperature measurement: -50C~60°C
Humidity measurement: 0~100%RH
Pressure measurement: 10hPa~1100hP
Rocket diameter: 50mm
Power supply: ≥1h
Storage time: >2years
Receiving distance: >25km
Rocket detection success rate: ≥95%
Application areas
TK-1 sounding rocket is used to detect the real-time change of atmospheric temperature, humidity and air pressure with height in the altitude range of 1000m. At present, domestic and foreign sounding operations in the 0-1000m altitude range, mainly conducted by the sounding balloons. The use of rockets as sounding instrument delivery vehicles can overcome the slow speed of balloon lift-off, serious wind drift and other problems, and can quickly obtain the atmospheric physical parameters in the 0-1000m region.

Product advantages --
TK-1 low-levelsounding rocket overcomes the problems of slow lift-off and serious drift with the wind of sounding balloons and is highly stable.
2 TK-2 Sounding Rocket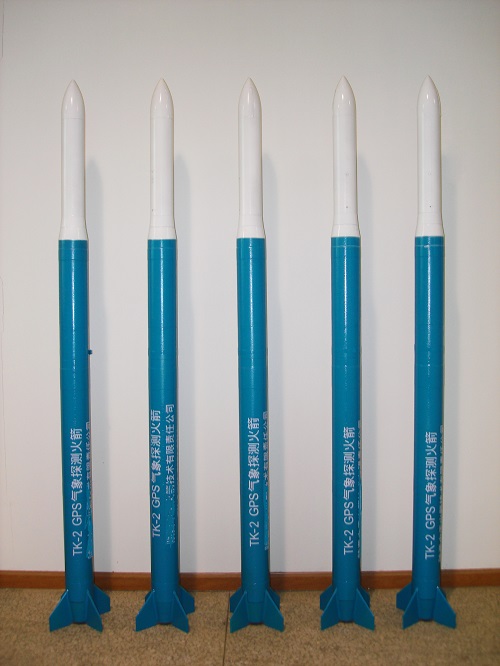 Basic information
TK-2 Sounding Rocket can be used to collect atmospheric temperature, humidity, air pressure, wind speed, wind direction and other atmospheric parameters in real time.The detecting range is 8km.It can not only provide decision-making support for the weather modification operation, but also be used in meteorological scientific research.
Product parameters
Max.Diameter (mm): 82
Total Length: 1570
Launch Mass: 8.9
Height(km): 8.0+0.5
Effective probing altitude range: 0~7
Landing velocity of rocket sonde (m/s): 6±1
Pressure range (hpa): 10-1100
Wind Speed Range (m/s): 0~25
Frequency of data collection (Hz): 1
Continuous working time (min): >120
Probing Items: temperature, pressure,humidity, wind speed, inddirection and 3D coordinate of measure points
Storage period: 3 years
Application areas
It can provide meteorological observation data for weather modification operation, and can be used for meteorological observation and meteorological scientific research.

Product advantages
1.The detection elements are various and the detection accuracy is high.
2.The rocket system can be used concisely and quickly, and can carry out real-time meteorological observation in the designated airspace.
3. It can be launched under complex weather conditions.

3 Skyhawk 2 Sounding Rocket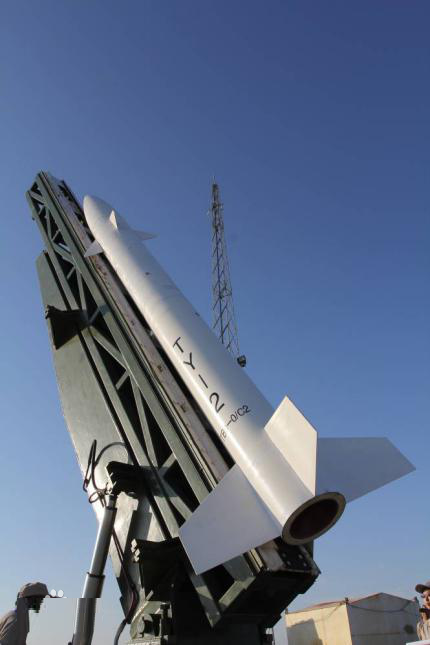 Product parameters
Load compartment outer diameter: 398mm
Flight altitude: 120km
Rocket body length: 6m
Payload Weight: 50kg
Take-off mass: 620kg
Take-off thrust: 120kN
4 Skyhawk 4 Sounding Rocket




Product parameters
Number of stages Single stage Two stages
Load compartment outer diameter 204mm 204mm
Flight altitude 120km 120km
Rocket body length 3.38m 4.6m
Payload Weight 5kg 5kg
Take-off weight 150kg 175kg
Take-off thrust 19kN 40kN

5 Skyhawk 6 Sounding Rocket
Product parameters
Load compartment outer diameter: 398mm
Flight altitude: 260km
Rocket body length: 11.5m
Payload Weight: 260kg
Take-off weight: 2900kg
Take-off thrust: 133kN
Microgravity level: 10g
Microgravity test time: ≥6.5min

The company provides sounding rocket design